Stevens Johnson Syndrome
Counter

Thanks For The Visit !

Farmboyzim's Freeware Finds
Spartan 7W "Executive"
Review by Farmboyzim

Milton Shupe, Scott Thomas and Urs Burkhardt have developed a beautifully rendered model of the Spartan Executive. An aircraft that was developed and made for the folks with the big bucks! It ran a whopping $23,500 back in the late 1930's, and that was A LOT of money then (to me, that's still a lot of money!!!), so only the wealthy could really be able to afford this aircraft, and that's how it was designed, for the wealthy, by the wealthy. The Spartan Executive owes more than just its engine life to oil. William G. Skelly, founder of the Skelly Oil Company, which, back then, was one of the big oil producers, had a passion for aeronautics and knew that the direction of the United States was becoming more "modern" and technological. His wealth enabled him to pursue his interest in a variety of ways. The Skelly Oil Company sponsored the "Air Adventures of Jimmy Allen" and the "Captain Midnight" Show. I know, "who"? These shows may be a bit earlier than your time, but they were, obviously, centered on aviation. Skelly wanted to do more than just sponsor a couple of radio shows though, and so began the Spartan Aircraft Company, which doubled as an aeronautical college. This all took place back in 1928 in


FBZFS
www.farmboyzimsflightsims.com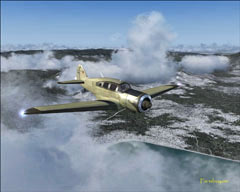 Here's the scoop on the aircraft straight from the file...
Spartan Executive for FS2004/FS9
By Milton Shupe, Scott Thomas and Urs Burkhardt.
VC and No-VC models included; Pkg incl Gmax A/C with "hand-flyer" flight dynamics and features a beautiful custom era correct panel and easy-to-read virtual cockpit, photoreal-influenced exterior textures and gauges, matching custom built interior, VC gauge backlighting, specular highlites in the VC and Html reference. Sounds included based on Mike Hambly's great GeeBee sounds. Support website and contact info in documentation.
There are so many great things about this model; it's almost hard to get started! The file comes with only one livery, which is a very nice two tone earth color, tan. There are loads of repaints out there, and below, you'll see some shots of these. Exterior modeling and textures are excellent! Working control surfaces are detailed and operate smoothly. Landing gear operation as well is smooth and great looking. Stepping inside, you just want to take your shoes off and relax...and that's just in the cockpit! Authentic looking gauges are displayed on a panel that is just wonderful to look at! Easily read with excellent detail, the model includes an autopilot that is extremely easy to operate. Since the Executive was a "tail-dragger", the development team has given you an option to click an icon on the panel for a better view of the runway. The icon is marked "TO", as in take off, and is located with the rest of the icons, i.e., GPS, Map, Radio, etc. Just a great looking Flight Deck, all around! Here are a few pics...
Tulsa, Oklahoma. Skelly was known, as a matter of fact, as "Mr. Tulsa". J. Paul Getty took ownership of the Spartan Aircraft Company in 1935. The richest man in the world, Getty was as unconventional as they came, and brought that way of thinking to the Spartan Aircraft Company.

One of the most successful aircraft to roll off the line at the Spartan plant was the Spartan 7W "Executive" model, built to suit the needs of the very wealthy and in particular, oil executives. Ever see an oil executive that wasn't wealthy? Didn't think so. James Ford was chosen to design this aircraft that would have no equal. Work began on the Executive in 1935. The prototype Model 7 made its maiden flight on March 8, 1936. It was piloted by Edmund T. Allen. Its top speed was only 140 mph. This was a no go. More power was needed to get this thing scooting through the skies. The power it needed would come from an upgrade to a Pratt & Whitney R985 ďWasp Jr.Ē producing 450 horsepower and outfitted with a Hamilton-Standard constant speed propeller measuring 8.5 feet in diameter.

The interiors were spacious and luxurious, like a flying limo. The Executive had a cruise speed of 200 mph with a range a bit over a thousand miles. This was quite the plane for the time. Only 34 Executives were produced with production ending on September 9, 1940 with the completion of the Mrs. Mennen (serial # 34). During WW II, the Spartan Executives saw service, with a designation of UC-71. The aircraft that saw service were purchased from the owners themselves.

Who owned these beautiful aircraft? Well, for starters, Howard Hughes, who was an aircraft designer himself; then there was King Ghazi of Iraq who commissioned the manufacture of the ďEagle of IraqĒ - a specially outfitted Executive complete with his Coat-of-Arms, an extra luxurious interior, and other custom features. The 1939 Bendix Trophy was won by a Spartan Executive at speeds of nearly 197 m.p.h. So you see, this is a very respectable aircraft to be seen in! Only a dozen of the 34 models made are still around today.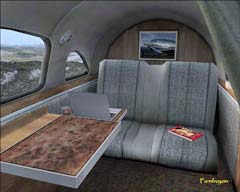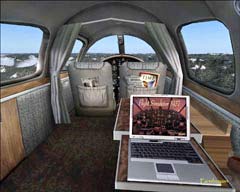 The Spartan Executive was developed utilizing a new technique in aircraft construction. It had, what is known as a monocoque fuselage design. With this design, there was no need for a center framing structure to support the skin. Monocoque construction uses lightweight aluminum ribbing bound with a stressed skin aluminum shell. Lots of strength with little weight, a good combination. The Spartan Executive however did not fully employ this technique opting to use a steel spar sub frame joined with aluminum bulkheads and a stressed aluminum skin. The fuselage did however benefit from this design with a rather spacious cockpit and an overall lighter weight.
Fortunately, we don't need to be wealthy oil executives to enjoy this aircraft! At least, the model of this great aircraft that is! These guys have done an outstanding job with this creation!





The interior of the cabin is just as detailed as the flight deck, with some very nice wing views...



The sounds in this package are awesome and are based on Mike Hambly's great GeeBee sounds. The pop of the start-up, the powerful, but subtle rumble of the engine, and the very mechanical sounds for the flaps, all lend a real sense of "being in the plane".

Here are some of the liveries that are available for this model, and this is only a few of what's available out there...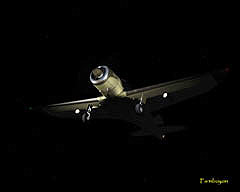 Exterior lighting is fantastic!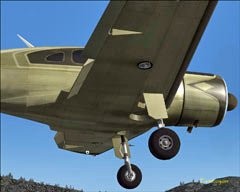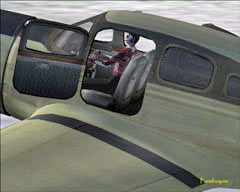 An all around beautiful model!!!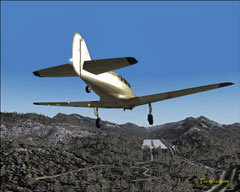 This is NOT a small aircraft!
On finals, easy to control...




I know it's hard to believe, but this model is in fact Freeware, which means what Class? Correct! It's FREE! So there's absolutely no reason whatsoever not to have this beauty in your hanger! If you're not into the classics of General Aviation, then maybe not, but then, what the heck are you reading this for then? :-)
Thanks guys for your outstanding work in the Freeware field! All us simmers out here appreciate it VERY MUCH!!! Also, a quick word here, and this concerns all models, not just this one...I want to point out that our appreciation also goes out to the folks that design and develop the panels and gauges, the Flight Dynamics Files, and those "artists" out there who find fun and enjoyment in making repaints of these excellent models! All you folks make this the great hobby that it is today!
FBZ

Flight Environment
and
Ground Environment Pro
from the folks at Flight 1 are used,
as well as
USA Roads
from
Abacus
.