www.farmboyzimsflightsims.com
FBZFS
Click On Most Pictures For A Larger View

Stevens Johnson Syndrome
Counter

Thanks For The Visit !
Now here's a little aircraft with a big attitude! The Saab Safir. So far, this is the only product developed by this new company called SibWings, but what a model it is! This has been an aircraft that has gone undiscovered by me and perhaps others as well. One of the biggest benefits of writing for my site is that I've had the chance to learn about aircraft that I never knew existed, and having the opportunity to "fly" them is a great way to learn about these various aircraft from around the world. This is the case with the Saab Safir. The folks at
SibWings
brought it to my attention and offered it up for review. I appreciate their "nudge" into Swedish aviation development! Here's some background on the Saab Safir...
In 1945, the Saab-91 Safir prototype first took to the skies in the form of a three seat monoplane with
cantilever
low-wing configuration and tricycle landing gear that was retractable. This first rig was powered by a 130 hp (97 kW) De Havilland Gipsy Major 1C inline engine. The first production version, designated the Saab-91A, hit the skies with a slightly more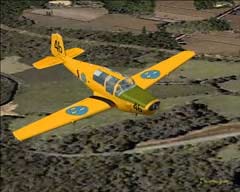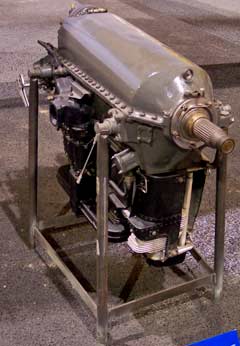 powerful engine, the De Havilland Gipsy 10. The Sweedish Air Force eyed this model as a potential trainer and Saab filled the order with the SK 50, which had the same powerplant as the Saab-91B, an Avco Lycoming 190 hp (142 kW) O-435-A flat six engine, and it was first flown 58 years ago this month, January 18, 1949.
The military version could be outfitted with guns, practice bombs or rockets, and served with the air forces of Norway and Ethiopia. In a pure flight training version, numerous European airlines utilized the 91B. In September of 1953, the 91C had its first flight. The difference in the 91C version was that it could accommodate a four-seat configuration. The 91D was the last in the line of production models for the Saab Safir, but it introduced a number of improvements over previous models. Improvements included a new Avco Lycoming O-360-A1A engine, disc brakes, and other features that were designed to cut down on overall weight. When the final Safir rolled off the line, total aircraft produced numbered 320, and models had been sold to over 20 countries.
Saab Safir-91B
De Havilland Gipsy Major
photo - wikipedia.com



Saab Safir-91C
Saab Safir-91D
Saab Safir-91D
SibWings has developed 4 versions of this interestingly fun little aircraft, and each reflects the differences that can be found in the three models. I know that I said 4 versions, and in the same sentence stated 3 models, so I better explain a bit here. SibWings, created the following models of the Saab Safir, the 91B, 91C, and the 91D. The differences in these models are items like four cylinders vs. six cylinder in-line engines, seating, and with the 91D model, the Finnish Air Force version sports the two-bladed prop, like the B and C models, but the civil version, "HB-DBL" is outfitted with a three bladed fixed pitch prop. Cowling is also different in the later model.
Exterior details on this model look absolutely great! The smallest of animated details, such as door hatch handles turning, add a great touch, as do the working doors and engine covers. Engine covers must be assigned the key command "wings fold/unfold" to have them open and expose the engine. There's just enough of that "dynamic shine" to make the model look as realistic as possible, as you pan the virtual camera about, taking in the sleek looks of this aircraft. Control surfaces operate smoothly as well as the landing gear, retracting and deploying in a very smooth manner. When shut down with engines off and parked, wheels are chocked so you won't accidentally roll off down the tarmac. With the package itself, you get four, extremely nice liveries depicting the Swiss and Finnish Air Forces and a civil, Swiss version. There are a number of repaints available for download also for these models on the SibWings site. This aircraft reminds me of the Socata Trinidad Tobago, in the way it looks. Both aircraft also had used Lycoming engines, but of different sizes. Also, there's about 25 or so yearís difference in between the two models of aircraft. This says a bit for the forward thinking in the design of the Safir. Saab has always had a way of being innovative when it comes to design and engineering. Anybody ever hear of Swiss watches? This aircraft model is built like a Swiss watch!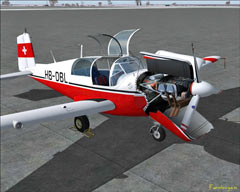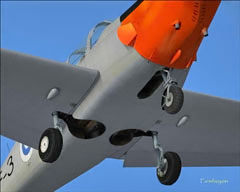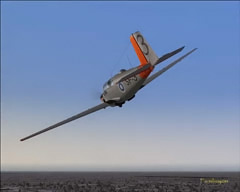 I find that in most cases, I tend to do most of my flying in the 2D cockpit mode, although these days the quality of 3D VC cockpits has increased quite a bit. This product does not include any 2D panel, although you can download a free 2D panel for the Safir from their site. While in the 2D view mode, you can hit the "W" key and cycle to the six gauges that get displayed at the bottom of your screen, but to get a real sense of what this model is all about, the aircraft itself, and to properly fly it, you have to go to the Virtual Cockpit view, where the panel is as detailed as any 2D panel I've seen. Each of the models has its own unique version of the panel, although all are very similar, and function in the same manner. The interior of this aircraft has that "old-fashioned" look to it; at least I think so, with the design of the panels giving me a sort of nostalgic feeling. Just about everything operates as it would in a real aircraft within the virtual cockpit, with very few exceptions. The night lighting for the panels is beautifully done, with the gauges being absolutely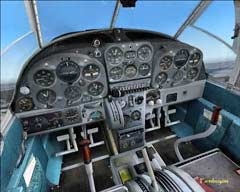 There's also some neat little effects thrown in, such as the side window's being able to open to get a bit of a breeze on those hot days, and speaking of hot days, you can even slide the curtains shut over your head to keep the sun from frying your brainpan! To do this, put your cursor over the curtain and rotate the mouse wheel. If you don't have the mouse wheel, you cannot close the curtains. I really don't think that would be a reason though, for not buying this model! This also brings me to the point of the incredible amount of visibility that is afforded to you while sitting in the pilotís seat. It almost seems as if you're flying in a big glass bubble! Great visibility!










So far, the looks, both inside and out have been very impressive. How about the way this aircraft model handles in the air? If you're a novice simmer, and you want to crank up those realism settings to see if you can handle the "real thing", this is a great model to do just that. As far as the flight dynamics of this model goes, I really like them, for they feel like they portray what this type of small aircraft can and cannot do. Speculation on my part, for, once again, I must admit to not being a pilot, and as far as that goes, I haven't even been within a hundred miles of a real Safir! Compared to other models though, I really liked how it felt. This is an aircraft that requires patience, for you're not going to get anywhere in a rush! Stall recovery was easy, although I don't think stalls are accurately portrayed in MSFS. Take-off rolls take a while as this little beastie needs a stretch to get the speed up. The aircraft handled surprisingly well in moderate winds, providing a good challenge for crosswind landings, but in heavy winds give it up! Stay on the ground or divert!!! In light or no wind conditions, the Safir floats down out of the sky like that leaf I mentioned in a review of another small aircraft a while ago. I found landings were tricky at first, for I found the aircraft had a tendency to float down the runway and right off the end if you werenít careful. Otherwise, after a few practice landings, she settled right down on the tricycle landing gear very smoothly indeed! This is one of the most realistic renderings of
"ground effect"
I've seen! There was one other nice bit of detail I really thought added a great touch of realism, and that's the fact of the engine being gravity fed with fuel and not fuel injected, which means that when you do that roll or loop, you have a bit of an engine cut out from lack of fuel. Safir pilots were consulted while developing this model, to make sure that what was going to be hitting the virtual skies would be a very close representation of the real deal. This model gets high marks on how it handled, and how it compares to other, small, general aviation type of aircraft models.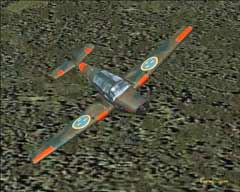 The sound package for the Safir product is good. The engine sounds are decent, but there were some issues mentioned in the forums concerning the authenticity of the sounds for the engines. SibWings stated, up front, that the cash was not there for top of the line sound equipment for this product, but to be honest, I thought this was a minor discrepancy, but the standards for the levels of realism are different for all of us. My standards for any add on are a pretty good set to go by and are fairly, but not unrealistically high, and I think a fine job was done here for our audio pleasure, and that's according to my ears! The ambient sounds of the aircraft are especially good, for example switches, latches, and flaps all sounded great...nice and mechanical! As I was taking off on one flight from a particularly bumpy airfield, and listening to the aircraft sounds, thinking to myself that the model itself was shaking itself apart from what I was hearing, I had also noticed the sound of the wind cutting through all the other clatter. The sound of the wind changed in pitch as
the aircraft picked up speed. I have flown open cockpit biplane models that have had the same type sound. Come to think of it though, I may have left a window open! Looking, or rather listening to the whole of the sound package, I think they did a fine job here as well, with, as they so honestly put it, a limited budget!
Quoted from the SibWings Site...

Features:
Four different and absolutely identical to real aircrafts models (including cockpits, engines and pilots), created with the help of their owners
Ultra smooth gauges: max gauge refresh rate is dependent ONLY on your PC power, no 18 times per sec refresh rate limit
Highly detailed 3d model: interior models around 34 000 faces, exterior models around 50 000 faces
Sounds recorded from the real Safir aircrafts
Realistic flight dynamics tested by real Safir pilots
FPS friendly: laptop (P-M 1.5 GHz, 512 Mb RAM, GeForce FX 5500) - 25-50 FPS in VC; desktop (P-4 3GHz, 1 Gb RAM, Radion X800) - 60-80 FPS in VC
100% realistic night light panel with highlight adjustment
Completely functional VC and fully animated moving parts: everything that should move - MOVES!

System Requirements:
Windows XP
512 MB Ram
Processor: 1.5 GHz
Available hard drive space: 200 MB
Video card: 64 MB/3D with DirectX 8.0 or later drivers
Other: mouse, joystick, sound card, speakers/headphones
Microsoft Flight Simulator 2004
Internet connection (needed for product activation)
crystal clear. There were initially some issues regarding gauges that did not work correctly, but this has been rectified with an update patch from the SibWings website, so that now, as far as I can see, she works like a charm. While I had display and graphics settings cranked up, and I mean WAY up, I was taking a bit of a hit in the frame rate department (a new graphics card is WAY past due!), but with some adjustments, at no real significant loss to graphics quality, operation while in VC mode was fairly smooth. The SibWings team reports that frame rates as high as 60-80 fps are possible while in VC mode. Although the VC mode was smooth on my rig, I have never seen frame rates that high...ever! Again, this is on my system which isn't exactly an antique, but it's not exactly a "super computer" either. Note the system specs later in the review for running the Safir at its best.

The majority of users did, however, report excellent frame rates while in the VC mode. Gauge refresh rates were also good. As far as the avionics package goes, you won't find any state-of-the-art stuff in this plane, but by hitting "shift + 2", you can bring up the GPS, but that's it, no other pop-up panels. This is a real "Pilot's Plane", meant to be flown with your good old fashioned know-how!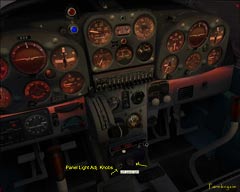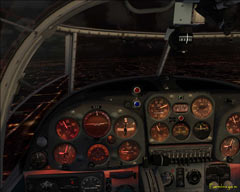 The looks and the operability of the cockpit and panel of this product was very impressive, and will give you a good feeling of what the aircraft is all about. The cockpit area is not the only part of the interior of this model to get attention. The various models reflect what these planes did for a living. For example, one model has an area behind the pilot seat for a stretcher, while another model is outfitted with seating for four. Check out the pics and you'll see the great detail in this model...
I always like to take a peek at a development companyís forum to see what problems may have been encountered by others, and to make sure I haven't missed out on something of importance. In the forums over at the SibWings site, I noted a few things that are worth mentioning.
As in all models that are released onto the market, there are, inevitably, a few bugs that sneak by. The Safir model is no exception. Due to the great reception of this model by the sim community however, these items were pointed out and rectified in an update patch and a great support forum. The Safir Sim community responded with great suggestions and key finds to make a great model even greater! Yes, there were some bugs with the model, and if you would like more detailed information on them, give the
forum at the SibWings
site
a visit.
Some issues concerned the operability/accessibility of various panel functions. Again, one of the more obvious was that of getting the night lighting to switch on. This is one of those items that require some left/right mouse clicking, and knowing where to do the said clicking! I know it's obvious, but check to make sure the battery is on and check if it's dark outside (duh!), then click with right mouse button on left variable brightness knobs On the B, C and Finnish D models, there are four light brightness levels - use the left\right mouse buttons on left variable brightness knob.
Something else I had noticed was that I could not find anyone that didn't like the model, which is a great statement unto itself. There was one instance of an unhappy customer not with the product itself, but with concept that you buy the right to use the software, not the software itself. This is a pretty common way of doing business in the sim development community, so I could not really see the point this fellow was trying to make. Also noted were the amount of posts from actual pilots and some very hard-core simmers. You know the ones. You walk into the room where they have their computer and peripherals and you think you're walking onto the flight deck of a 747! (Please note: green with envy!!!) All of these folks had very positive things to say about the model, but they were also very astute in their observations, pointing out various bugs and quirks that were associated with the Safir model. Some of the more obvious were problems with Course Deviation Indicators (CDI) not functioning properly which could prove to be a nuisance on those cross country flights!
These and other issues are addressed in the SibWings Forum. Most of these issues are also covered in the Manual which is in PDF format, and covers quite a bit of information regarding the Safir. A very informative bit of history is also included in the manual, along with specifications, a quick start guide and some tips on aerobatics. The manual is 47 pages in length and does make for an interesting read.
The price of the Saab Safir product is 20 Euros, and that's about $25.87 USD. They are working on a boxed version of the product and are also striving to make the model available for FSX. Both seasoned and novice simmers alike will enjoy this model. Novice simmers will have an easy yet challenging GA aircraft to practice realistic flight parameter settings with, while the pro's out there will enjoy the model for it's accuracy in flight dynamics and the back to basics concept of flying. For a little over 25 bucks, I think you will get your money's worth, and you're also helping out a new, start-up development group that's showing a lot of potential for some great future products! Give the SibWings Laboratories a visit at
www.sibwings.com
for more information on this fantastically fun model! Thanks for bringing this one to my attention!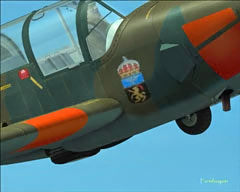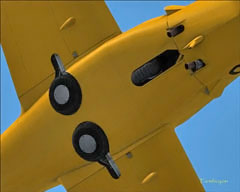 SibWings
Saab Safir
Reviewed by Farmboyzim
Notes from a last minute flight...

1 - Modeling is excellent, along with paint jobs and textures.
2 - Animated pilot moves realistically and even looks human!
3 - Various animations throughout the model work and look great.
4 - Beautiful cockpit and interior.
5 - An excellent flight model.