Stevens Johnson Syndrome
Counter

Thanks For The Visit !


www.farmboyzimsflightsims.com
FBZFS
"Flying Green with Farmboyzim"
By "Farmboyzim"
Top 25 Best US "Green Cities"

I write these "Green Flight" articles to make you aware of the situations that exist globally concerning our environment. You will be taken on some "virtual" tours of these areas, pointing out the landmarks that are worth flying over. I will also tip you off to some outstanding add-on's in both the aircraft and scenery categories, some of which may be payware, but for the most part, freeware whenever possible.

My wife (and chief Editor!), "Farmgirlzim" had pointed out an article in one of the magazines she reads, "Country Home", and its topic was the top 25 Best "Green Cities" to reside, in the United States. They focused on areas such as local government policies regarding the environment, the number of "Green" buildings in the city, (...that's not, by the way, the color of the building, but how "eco-friendly" it is!), recycling, and …here's my favorite, the amount of locally grown food that is available. I'm proud to say that I'm in the locally grown produce category and my home town of Petaluma and its neighboring city, Santa Rosa, California, placed 4th out of the list of 25.


We're going to start with the top 5 off this list of 25, and I know that you'll enjoy these areas for further exploration on your own, as I have found some great freeware scenery to enhance these already beautiful areas! The list begins as follows:

#1 - Corvallis, Oregon
#2 - Portland Metro, Oregon
#3 - Bellingham, Washington
#4 - Petaluma/Santa Rosa, California
#5 - Boulder, Colorado
Heading north along the Willamette River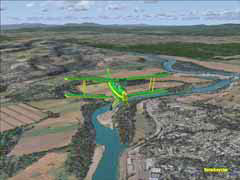 Number one on the list is the city of Corvallis, Oregon. "Corvallis" in Latin means, "Heart of the Valley" and it truly is an appropriate name! Corvallis has a municipal airfield, KCVO, at an elevation of 235 feet. There are two usable runways', 17/35 with a run of 5900 feet and 9/27 with a length of 3340 feet. Both are asphalt surfaced. RW 17 is set up for ILS approaches. The actual airfield has an unusable portion marked with X's at the western end of RW 9/27. The virtual KCVO has an identical layout.

The surrounding area is gorgeous to fly in. One of the taller mountains in the area is Mary's Peak, just west of Corvallis. It's nothing like Mt. Hood, but still a nice site to see. The coast is not far at all from Corvallis if you feel like a coastal flight. I personally followed the Willamette River north, into Portland, Oregon. The route up the river takes you through the valley, and right at the end, where the Willamette meets the Columbia River; there are a number of airports and airfields to choose from. Portland and Salem are within easy flying distance. For this leg, we'll land the Tiger Moth at Portland International (KPDX). My little Moth probably would have been more at home with a smaller field, as she was dwarfed by the number of "Heavies" slipping in and out!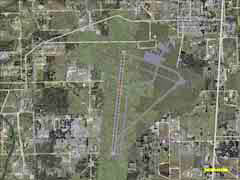 Top Down View Of KCVO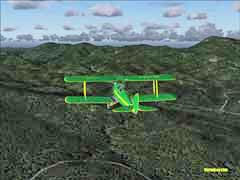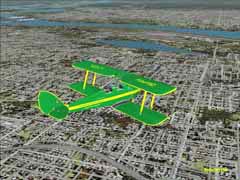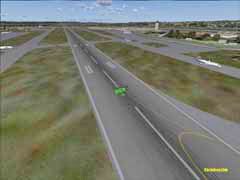 Mary's Peak on the right, the Pacific Straight Ahead...
Over Portland, Oregon
That's a whole lot of Runway for this little Moth!
KPDX lies right alongside of the Columbia River, which forms the border with the state of Washington. Elevation of the airport is 30 feet and has 3 sets of runways: 10R/28L (10984 feet, asphalt), 10L/28R (7989 feet, asphalt), and 3/21 (6994 feet, asphalt). All runways except for RW 3 are equipped to handle ILS. Portland is a wonderful spot to begin any number of flight adventures. The Pacific Ocean lies to the west, a great flight if you take the river, and if you head east along the Columbia River, there is some spectacular scenery waiting for you in the Columbia River Gorge. You can also check out Mt. Hood, a very popular for both skiing and sightseeing. Mt. Hood is also the location (on the south side) of the Historic Timberline Lodge. Skip across the border, north into Washington State, and visit Mt.St. Helens, a volcano that erupted back in the 80's, and whose effects were felt in the city of Portland. The addon scenery mentioned at the end of the article will point you in the right direction for enhancement to these landmarks.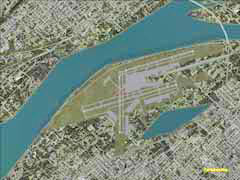 KPDX, Portland, Oregon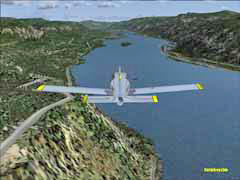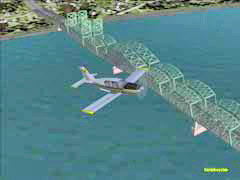 Hood River Bridge, Freeware Scenery
Hydroelectric Plants
The Columbia River
Mt. Adams to the north
Over the Columbia, where I turned toward Mt. Hood
Mt. Hood in the distance
There's always snow on Mt. Hood
Timberline Lodge
One of many small airfields in the area, with Mt. Hood in the distance
Since you may be heading north, continue on to number three on our list of the "Best Green" cities, Bellingham, Washington, home to Bellingham International (KBLI). KBLI has only one runway, 16/34, which is an asphalt surface. You'll have 6746 feet of runway to get your bird in the air. Runway 16 does have ILS.

Bellingham is very close to the border with Canada, and is situated on the coast of northernmost Washington. To the west are a group of islands that are called the San Juan Islands, which may sound tropical, but guess again! There are over a dozen airstrips of various types scattered throughout these islands, which certainly would provide for hours of island hopping fun! You'll find some amphibian "runways" as well in a few spots in amongst the islands. Mount Logan is to the east of Bellingham, along with even more mountain ranges. "Rotorheads" take note…these areas would be great for some nap-of-the earth, hide and seek helicopter flying!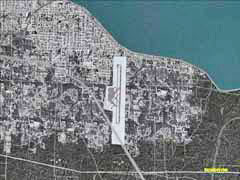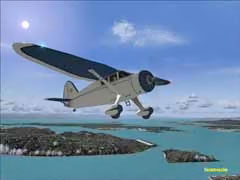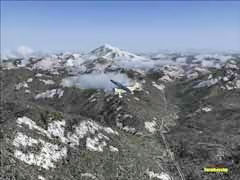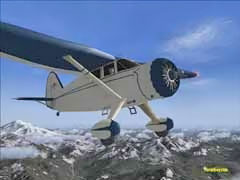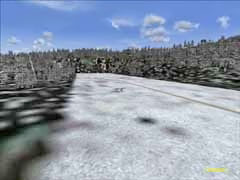 We'll head south now, down to my hometown of Petaluma and its neighbor, Santa Rosa. Placing fourth on this list makes me especially proud. When you do see something like this, it makes you feel that your efforts, no matter how slight, really do make a difference. I feel very fortunate to live where I do. Both Petaluma and Santa Rosa have there own municipal airports. In Santa Rosa, we have the Charles M. Shultz/Sonoma County Airport. It was renamed after the writer of the comic strip "Charley Brown". Mr. Schultz was a local resident. KSTS is an impressive little airport with two runways at an elevation of 125 feet; 14/32 and 1/19, both asphalt surfaced and each a bit over 5000 feet long. Runway 32 is ILS ready. I happen to live in the flight path of 32, and see some wonderful sites from time to time. Every day there is the Horizon Airlines Dash 8 flying in from either Los Angeles or Seattle, and depending on the time of day it's a beauty of a site! We are still quite a few miles from KSTS, but just as they pass overhead, it looks as if they drop their gear. I'm easily entertained!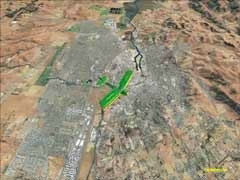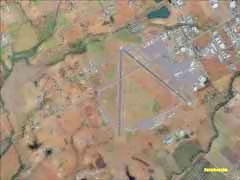 KSTS is the jumping off spot for adventures into the Northern California Coastal Ranges, or, if you prefer, the inland valley's. Petaluma's Municipal Airport (O69 that's Oh69 not zero 69), is just south of KSTS, just a few minutes of actual flying time as a matter of fact. O69 has one runway, 11/29, length of 3598 feet, asphalt surfaced, at an elevation of 87 feet.

One of the most enjoyable flights I take every now and then is west, out of Petaluma, toward Tomales Bay and Point Reyes National Seashore. The Bay is actually the San Andreas Fault, where it enters the ocean. Once you get to Tomales Bay, which also happens to be where the Great White Sharks come to frolic/mate, head south along the coast and you can't miss the Golden Gate and San Francisco. Not being a "city boy", that's about as close to the city as I want to get, and so I head north, over the Sonoma Mountains. By comparison, our "mountains" are really very tall "hills". Having just completed the flights in the Pacific Northwest, where mountains range in the thousands of feet, it really is hard to call our local range, "mountains", as the tallest in the range is around 4,343-foot, that being Mount St. Helena just northeast of Santa Rosa, California, with the rest of the peaks averaging 1700 feet or so. The terrain still provides for some great virtual flying!
Heading east along the Columbia River.
Bellingham International, KBLI
The San Juan Islands are loaded with airstrips for "Island Hopping"
You can see why I love this area so much!
The beautiful Stinson Reliant
Where is everybody?
Petaluma, California, my hometown
Charles Schultz/Sonoma County Airport, KSTS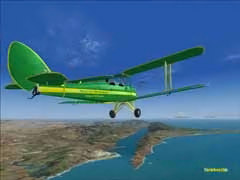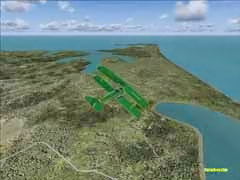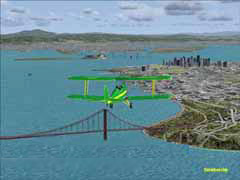 Flying south toward Pt. Reyes and Tomales Bay
Perfect weather for a biplane!
Turning onto final for KSTS
The Golden Gate Bridge
Sunset over Pt. Reyes
Point Reyes Natl. Seashore.
The Sonoma Mountains
We have an outstanding recycling program in our cities, and it has been stated that California, overall, has a recycling rate of 76 percent. We are shooting for 90 percent. Because of the amount of wildlife and wetlands in this area, land protection is a priority. Often, land is bought up by the government to keep it as open space, with the former owner still being able to use it for his managed, agricultural needs, grazing for example.

Let's move on to our fifth and last "Best Green" City in the USA out of the 25 that made the overall list. The west has been dominating the list thus far, but now it's time to head east into the beautiful state of Colorado.
In the foothills of the Rocky Mountains, about 35 miles northwest of Denver, is the city of Boulder. At an elevation of 5,430 feet, it makes for an ideal location for the National Center for Atmospheric Research. Boulder made it onto the list for its strong commitment to maintaining the naturally beautiful areas that surround it. In the city itself, folks take advantage of a host of alternative transportation options, plus natural product retailers, and restaurants that utilize naturally grown food, much of it locally produced. They do not hesitate to close off protected open space and wildlife areas, four to five months at a time, usually twice a year, as there are many species in the region that are endangered. Some of the land is leased out for grazing purposes, but in a way that helps the environment, through careful management.

Here is another area that has loads of exploration value. The next decision on my part was to decide where my flight path was first going to take me. If you have read any of my past articles, you may have gotten the idea that I'm a "Mountain Man" at heart; so naturally, I took off and headed west. Boulder Municipal (1V5) is a high altitude airport, so adjust your flying accordingly. It is serviced by a single, asphalt runway, 8/26, non-towered, and no ILS. At the end of Runway 26 there is a small lake, but with a run of 4100 feet, you'll not need to worry about getting your feet wet…hopefully! The virtual airport is nicely laid out, and as soon as you leave the ground, your mind is almost overloaded with the splendor of the Rockies. Boulder sets right smack up against this range of mountains. You should really focus though, even if you are piloting a virtual aircraft!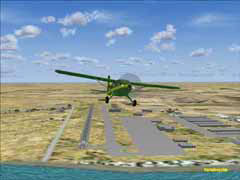 Taking off from Boulder Municipal (1V5)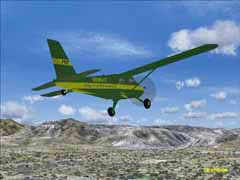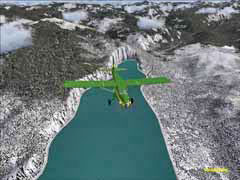 There are airfields and strips of various natures, scattered throughout the Rockies. Getting to and from these secluded spots can be made by flying over these grand mountains, or following some of the valleys. It would be advisable to have charts or your GPS loaded up with the "Terrain" (Terr) option activated, to avoid any box canyons or other flying obstacles. High or low, the views are spectacular! Lakes at 9,000 feet! Man that water's got to be cold! Heading southeast out of Boulder, Denver is just a short hop away. Your engine will hardly have time to warm up! You'll find that the terrain to the east is also considerably flatter. Looks can be deceiving! You're still at a high elevation. Once again, here is yet another region that could offer you hours upon hours of flying fun! I can't get enough of it myself!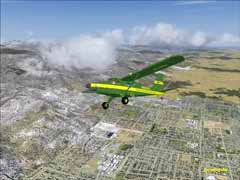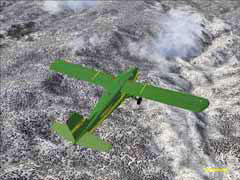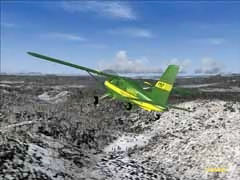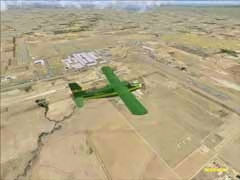 The Colorado Rockies
This lake in the Rockies is at about 9100 feet! Brrrrrrrrrrr!
Boulder sits right up against the Rockies
Breathtaking views await you
Perfect place for a get-away-cabin!
Short hop to Denver International.
As I researched the cities above, I noticed a few things that were rather common to each. One of these items in common was the fact that the "Green Cities" were located in some very "Green" areas. I suppose being close neighbors with "Mother Nature" has a positive effect! Some cities were surrounded by protected forests, while others are surrounded by established "Green Belts" that are utilized with
sustainability
in mind, in other words, how not to over-use the land. Many of these cities had higher educational facilities, with curriculum for those that wanted to study the environment. So,
education
seemed to be an important factor as well. Some of these area's, like those in Oregon, have been thinking "Green" since the 70's and 80's, knowing that if we didn't take care of what we had, trouble was sure to follow. Hmmm…it would seem that hindsight is 20/20 after all!
The last common factor I would like to mention are the people that live in these areas. Regarding my own home town of Petaluma and neighboring Santa Rosa, the majority of the folks practice the
three "R's", Reduce, Reuse, and Recycle
. Not everyone is "Green" however. You still have people tossing litter and lit cigarettes out of their cars, or not taking the extra second or so to toss that aluminum can or cardboard box into the recycle bin instead of the garbage can.
There are loads of freeware scenery enhancements out there for all of these areas. You'd be surprised at some of the out-of-the-way airfields that have either been created or enhanced. Even though there are umpteen thousand airports in MSFS2004/FS9 (which I used for this article), not all get the detail they deserve, so here's what I found for the areas covered in this article…(We'll see about covering the other 20 cities in a future article)...
cr_gorge.zip
: FS2004 Columbia River Gorge and Volcanoes. This scenery package is from a popular name in scenery development, Holger Sandmann. This is a complete replacement of the default landscape of the Columbia River Gorge and adjacent areas of Washington and Oregon. This freeware file also contains an accurate placement of rivers, lakes, roads, and even railroads. High-Resolution Mesh and replacement landclass files are included. Ski slopes of Mt. Hood are included as well as Mt. St. Helens and the surrounding blast area. There are instructions on how to install these files, and what other scenery addons are either compatible or non-compatible, in which case, Holger explains how to deactivate certain default files so that there are no conflicts, such as overlapping river banks, etc. It may look complicated for the newcomer to addons, but it really is quite easy to install, and highly recommended. For that matter, anything you find by Holger is highly recommended in my book!
hrbridge_gc.zip
: This is a scenery file of the Hood River Bridge for FS9, and is compiled to fit in with the above mentioned Columbia River Gorge Scenery. This bridge crosses the Columbia River just north of airfield 4S2. By the way, "Papa Looser", the creator of this scenery, has made it solid for choppers to land on. The bridge looks excellent, and really should be loaded up if you plan on flying in this area often, as it would be a great VFR reference landmark.
timberline.zip:
Here's a place you may recognize
from the movie "The Shining", starring Jack Nicholson. Timberline Lodge is a National Historic Landmark. Built in 1936, the Federal Works Projects Administration hired unemployed craftspeople to construct this lodge completely by hand, inside and out. It was a desperate time, and the Depression was at its height. This project put needy, but capable people to work. "Farmgirlzim" has been there, so once again, I relied on her expert opinion! FGZ said it was a pretty decent representation of the real deal. There is a helipad located near the lodge. The author of this scenery file is M. Allen Richards. This building stands out as an ideal VFR landmark which is located on the south side of Mt Hood.
MegaScenery Northern California
(payware) enhanced my "California Experience"
Last, but certainly not least, are a few Terrain Mesh files for the areas covered in the article, from the man that wants to make a "mesh" out of the entire world, Justin Tyme over at FSGenesis,
www.fsgenesis.net
. The terrain mesh files that they have are a freeware "must have"! Justin has covered quite a bit of the globe with his Mesh enhancements, and they truly do make a huge difference in what you see out of your aircraft. Highly recommended!
Planes used for the article were the Stinson Reliant, by Lynn and Bill Lyons, Premier Aircraft Designs Turbo Beaver, and their Socata Trinidad, both repainted by yours truly for the article. Thanks for some truly fine freeware aircraft gang! Just Flight's DeHavilland Tiger Moth, also with a personalized paint job, was used for the low and slow flying, and is an excellent model of a classic aircraft, which you can find at their site.
Lastly, my thanks to the folks at Flight1 for Ground Environment Pro and Flight Environment, this certainly adds a great touch of realism to the sky and ground textures!
Each person that follows the three R's (Reduce, Reuse, and Recycle) could be likened to drops of water in a bucket. One drop is hardly noticeable, but you get enough drops collected and that bucket is going to fill up! Point being, it all counts!
Keep it Green...FBZ