Stevens Johnson Syndrome
Counter

Thanks For The Visit !


www.farmboyzimsflightsims.com
FBZFS
FBZ's Fast Flight's
Flying in New Zealand
It's surprising just how long a gem of a region can go unnoticed within our virtual world of MSFS. I had discovered the joys of flying in New Zealand while scouting about the globe for a suitably challenging area for a Hop Race on my Multiplayer Server. I immediately knew that this region was bursting at the seams with possible courses! New Zealand proved to be not only a challenging Hop Race, but the flyers were certainly not bored along the waypoints! There was plenty to see! A few of the racers had admitted to never having ventured into the southern hemisphere, and in particular, New Zealand, and couldn't help but comment on how much they enjoyed the terrain and the challenges of mountain flying. Since that time, the New Zealand skies see quite a bit of Farmboyzim!

You are bound to get quite a few different answers if you ask anyone not from New Zealand, about the area. What's the first thing that comes to your mind when you hear the words "New Zealand"? Being a former Rugby player, I can't help but think of The All Blacks, New Zealand's Champion Rugby Team. Others may think of such things as the Kiwi fruit, or even the movie "Lord of the Rings". But not many, I would venture to guess, would mention the geographic wonders of the country, or for that matter, the part that New Zealand has also played in the history of aviation. The sixth powered flight in the world was achieved here back in 1903. In 1937, Pan American Airways and Imperial Airlines (later British Airways) bring the first flying-boat
long-distance flights into New Zealand. The first flight to splashdown is piloted by Captain Edwin Musick. The Honolulu-Auckland route uses Boeing 314s which can carry an unprecedented 74 passengers. A.E. Clouston, a New Zealand test pilot, and Englishman Victor Ricketts made the first direct trip from England to New Zealand and back to England in a De Havilland Comet long distance racer in 1938. So you can see that New Zealand has been there all along as well, as aviation developed and grew to what it is today.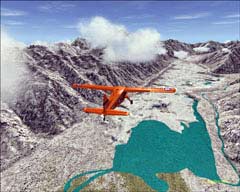 New Zealand is a country that is a seismologist's dream come true! Being a part of the Pacific Rim of Fire, the name for the huge ring of volcano's that line the Pacific Tectonic Plate, gives it some very interesting characteristics. Glacial mountains, beautiful rivers and lakes, geysers and boiling mud are just some of the wonders that New Zealand holds. It would take quite some time to tell you of all the wonders that you can behold from the air while flying the virtual skies of New Zealand, so, throughout the article, I am going to give you the low down on just a few of the many spots that I have discovered and continue to fly into and out of. It seems that I just can't stop discovering new valleys, lakes, and extremely beautiful mountains and glaciers to gawk at!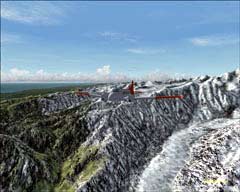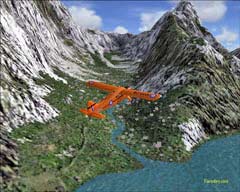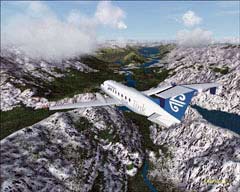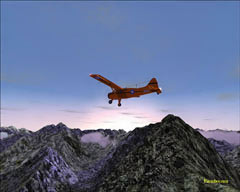 I think I'll see where this goes!
A "Para-ski" jumpers dream come true!
Right after take off from Milford Sound
Spectacular valleys
The definition of "Vista"!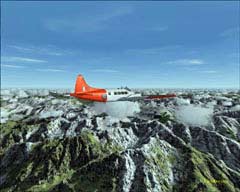 Uhhh, I don't see any flat spots in case of an emergency!
New Zealand is located in what is referred to as the "Roaring Forties" latitude. A continual and prevailing wind blows across the area from west to east ranging from gentle breezes to gale winds in the winter. If you are a glider enthusiast, this may be just the place for you to float into next! Search for what is called "Soaring Scenery" for the New Zealand area and you'll probably come up with some packages that will add those virtual winds that will keep you gliding through the air.

The northern island of New Zealand is home to the capitol of the country, Wellington, and Auckland International Airport. In 1965, the first commercial international flight flew into the unfinished Auckland Airport in the shape of a DC8, flying the colors of Air New Zealand. It had just flown a non-stop journey from California in 13 hours. The landing of the DC8 marked the "Grand Opening" if you will, of the airlines facilities at the airport.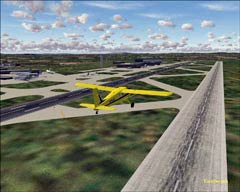 Taking off from Auckland Intl.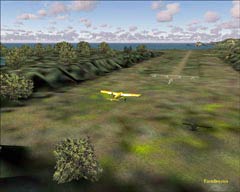 Landing on Great Barrier Island
Great Barrier Island lies to the east of the northern island, and has a small airstrip located there. Don't confuse this island with the Great Barrier Reef, which lies off the eastern coast of Australia. The Great Barrier Island is a fantastic spot to fly to or out of, if you like to hop from island to island. Be aware that not all of the islands that dot the surrounding coast lines of New Zealand have airstrips on them, and if they do, they are probably grass or gravel, accommodating nothing larger than perhaps a Beechcraft 1900C or D. I can hear you bush pilots out there starting to sit up and pay attention now!
This has been a most difficult article to get finished, and I'll tell you why. Screen shots are an important part of these articles. They give you a sense of what to look for when you take your own journey's around this big blue marble of ours. When you get to a place like New Zealand, it is rather easy to gather an abundance of screen shots that inevitably have to be waded through and chopped down to a workable number. I ended up with over 150 screenshots! It was tough to pick which one's to accompany this article, as the area is a screen shot "fanatics' dream come true! Some of the more popular and well known sights are Mt. Aspiring, Mt Cook, the Franz Josef and Fox Glaciers, Mt. Taranaki, and two of my favorite places, Milford Sound (MZMF) and Queenstown (NZQN). These places are only a drop in the bucket as far as what there is to see from the air. The two major airports are Auckland International (NZAA), and Wellington Intl (NZWN) on the Northern Island and Christchurch International (NZCH) on the Southern Island.

To make this article a manageable length (as I could easily go on and on about what there is to see!), I decided to see what the tour companies had to offer in the real world, and what I found was quite a few focused their attentions on the Lake Wanaka and Mt. Aspiring areas, which happens to be the region of New Zealand that was used to make the film Lord of the Rings. Although the entire country of New Zealand is absolutely awesome to fly over, this area and the southern most area of the south island are by far my most favorite places to fly. You just can't get tired of looking out the window at what Mother Nature is capable of!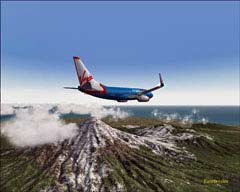 That mountain just popped up in front of me!
I'll also take a short flight from Auckland International to Christchurch International in a specially painted Boeing 747, marking the release of Lord of the Rings.

Before I fill you in on my little journey over "Middle Earth", let me brief you a bit on flying in this type of terrain. First off, KNOW WHERE YOU ARE! This of course, is an important factor in flying in any region, but it applies even more so to aviating in mountainous terrain. You do not want to get caught in a box canyon with no way out, except up! Ever try to turn a truck and trailer around on a two lane street? Getting out of a box canyon is a bit more difficult! For those of you who aren't familiar with geologic features, a box canyon is a canyon with only one way in or out, having three sides, and if it's really narrow beyond the point of the turning radius of your aircraft, well, let's just say I hope you have the "crashes" turned of in your sim, since you'll be decorating the side of the mountain with your aircraft! Chopper pilots won't have this type of problem, and you can spend hours upon hours exploring the valleys of New Zealand.
Another thing to be aware of while flying in this type of terrain is being able to judge just where the heck the horizon really is when you are looking out there at nothing but mountains. It takes a few hours of real world flying time to allow your senses to get used to this challenge, and there are even special aviation courses that are offered for pilots that wish to be up to snuff on mountain flying. It certainly is a different kind of animal! Bush Pilots are going to think they are aviation heaven!
My first flight for the article was out of the Wanaka Airfield (NZMF). The strip is designated RW 11 and 29 and the surface is bituminous. Bituminous is a relatively hard coal, containing a tar-like substance called bitumen, just in case you were curious. The runway is just a bit under 4000 feet in length, so it can handle light to some medium sized aircraft.

I wanted to follow, to some degree, what the tour might cover, and let me tell you, after flying the simulated flight, I want to fly the real tour! My final destination was to be Queenstown Intl. Airport, (NZQN). My first heading was towards Mt. Aspiring, which was just about due west of the Wanaka Airfield. Lake Wanaka is a great place to fly into or out of for floats or amphibian planes, as the lake itself is quite large. There are no designated water runways on the lake itself, so unlike the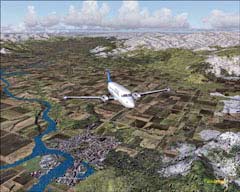 Hey! What's that flat land doing there?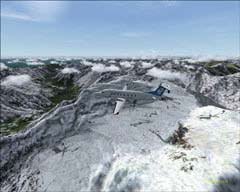 real world, go for it! Mt. Aspiring National Park is part of the Southwest New Zealand World Heritage Area, and features some stunning mountain peaks, valleys, rivers and an uncountable number of ravines. The park sits in the South Island's south west, at the southern end of the Southern Alps. Mt Aspiring National Park encompasses a large area, from the Haast River in the north to the Humbolt Mountains in the south. Continuing on in an easterly direction, I approached the western coast of the southern island, and passed over the Olivine Ice Plateau. Get out your ice skates, or strap the skis on the plane…if you dare! Again, not allowed in real world aviation and a good thing too! These areas are pristine and virtually untouched by humans.

Turning southwest, I headed into the Fjordland National Park. The park is the largest national park in NZ and one of the largest in the world. The park includes Lake Manapouri, Lake Te Anau, Sutherland Falls and the Milford Track. Certain areas within the park contain indigenous flora and fauna of such significance that access is by permit only. Other areas have been classified as 'wilderness' (access by foot
Over the Olivine Ice Plateau area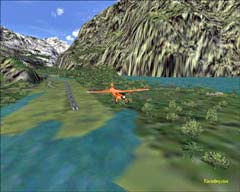 Milford Sound - This is where you'll find me!
only), 'natural environment' (to remain predominantly as they are but with bridges and huts available) and 'facilities areas' (where controlled development is allowed). In the area of the Sutherland Falls, which is not too far from Milford Sound, I headed back east. Wouldn't it be great if somebody developed some scenery with waterfalls? Hint, hint!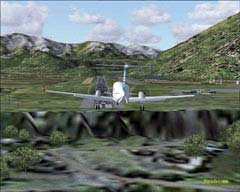 Dropping in at Queenstown
Our next stop is the final destination of Queenstown Intl. which is situated amongst some of the finest skiing conditions in NZ. The airport at Queenstown offers both conventional runways and a grass runway. I believe that in real world conditions, the grass strip is closed. The entire flight took no more than an hour or so. If you take off from Queenstown itself, the avenues for exploration seem to be endless. If you have no particular flight plan, swivel your head around in the virtual cockpit after you take off and you'll soon see that making a choice as to which direction to go in may take the flip of a coin! They all look good!

The second flight I took was from Auckland International to Christchurch International in a Boeing 747. Coming from the northern island of NZ offered no less of an eyeful of scenic wonders. The spine of mountains runs through the northern island, south into the southern island in a continuous range of awesome mountains. You'll find numerous smaller islands dotting the sea in between the two bigger islands. It sort of reminded me of the islands of Greece, the way they were scattered about.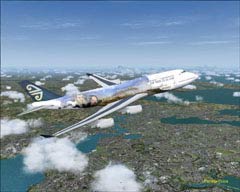 Both of these airports are very modern and can handle the big boys as well as any General Aviation aircraft you may choose to fly.

There are some serious looking volcanoes that erupt out of the earth, with flat lands all around. What a site to see! These landmarks are easy to find while flying in MSFS, just go to your map and look for the dark brown terrain features in the middle of the lighter colored terrain! You can't miss them! If you do, maybe a trip to the eye doc is in order! ;-)

To wrap it up, my suggestion to you is to hop into your favorite aircraft, and get yourself down to New Zealand, where I can guarantee that if you like extreme terrain, beautiful coastlines and awesome vistas, you are going to love New Zealand, the land of "Middle Earth"!

I want to thank the folks at Red Baron Entertainment graciously supplied me with the Scenery and Mesh Enhancement products of Mountains of New Zealand and Roads and Rivers of New Zealand. Thanks much and WOW! I also want to thank ALL the developers of the great freeware models that I used for this article! Keep up the great work!

Here's a few more shots for you to look at of the area...
Boeing 747 sporting the Lord of the Rings Livery.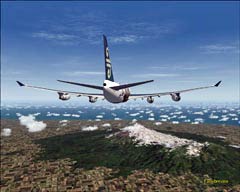 There's that mountain again! Who put that there?